What we believe!
"Where there is a bridge of human being can cross over and reach to enhance our community, nations; collaboratively working towards improving the quality of life to others!"
Join our mosaic chamber!
News
Saturday, March 21, 2020 12:08 PM
Praying without Ceasing: Global Women Christian Chamber of Commerce
From the Desk of Commissioned Apostle, Rev Dr. Lydia Gonzalez Dross "You are a beacon of light to darkness." We shall overcome!
Let's do this together!
Prayers for spiritual leaders to pray within their prayer conference calls, prayer groups etc., posted by my long - time friend, Prophet Tondi Curtis, Alabama- Prayer Strategies Group Let's do this together.
Father, we thank you that even right now as we join our hearts together to pray you are moving against the darkness that has covered our earth.

We pray first of all that you will reverse the curse that has come on this world that you will send it back to where it came from and turn things around. Put it back into the bag of tricks of the enemy where it came from.

Next, we pray that you will tie that bag at the very top yes at the places where the spiritual wickedness and rulers are sitting. Would you just bind them from moving this coronavirus forward in the name of Jesus? Even as you said in Psalm 149 this honor have all the saints to bind their kings with chains! We bind them with your holy chains.

And then the father would you hold this virus in place by the power of your spirit don't let it move but let it be held in place. Restrict its movements so it cannot move. Stop it!

Thank you that you hear us when we pray and we ask for your blessings on these plans and strategies!
Amen!
Global Women Christian Chamber of Commerce is in partnership with the National Hispanic Disaster Relief Network helping businesses in times of crisis and providing global humanitarian efforts. Our members, friends and partners that contribute to GWCCCE, funds will be disminenate in US only to help our fellow americans in time of need. Please be generous today!
---
Sunday, March 15, 2020 6:09 PM
Global Women Christian Chamber of Commerce Embassy proclaims the Presidential Declaration National Day of Prayer against Coronavirus!
Message from Summer Ingram, National Director of Prayer and Mobilization at Congressional Prayer Caucus Foundation.
There's several strategic prayer efforts, prayer calls, and other onsite prayer happening around the nation as a result of the President's call to prayer tomorrow. Thankful for a President who calls for prayer, and for all of the Americans who are answering!
Here's a few options for consideration:
ONE VOICE Prayer Call with key leaders:
Date: 3/15
Time: 8:00 PM ET
Dial information: 712-775-7432 (no code) or 712-775-7431 (then 2452#) – this is limited to 5,000
Webcast link: https://onevoiceprayermovement.com/
Youtube link: https://www.youtube.com/watch?v=YJSxIl1_nv4
NATIONAL DAY OF PRAYER: 712-432-0075, 4961322#
Morning:
10 am ET, 9 am CT, 8 am MT, 7 am PT
Evening:
10 pm ET, 9 pm CT, 7 pm MT, 6 pm PT
24/7 NATIONAL STRATEGIC CALL: Call-in number: 712-770-4340 Participant code: 543555 #
"The First Amendment right of free speech and right to practice any faith, or no faith, are foundational American values that must extend to everyone..."
"Public celebration of religion by public officials is very consistent with our nation's history and tradition.On national holidays, inauguration days, and on other momentous occasions, presidents and governors have often presented the nation with a message from Scripture or have called upon the nation to seek God's favor, protection, and mercy.
Nationally, it began with President George Washington, but such religious messages from public officials had long been part of American history since colonial times.
President Washington, as an example, proclaimed a day of Thanksgiving and encouraged all Americans to honor God. Acting officially as the President, he issued a presidential proclamation asking all Americans to devote themselves "to the service of that great and glorious Being who is the beneficent author of all the good that was, that is, or that will be," to "unite in rendering unto Him our sincere and humble thanks for His kind care and protection of the people of this country previous to their becoming a nation," and "to pardon our national and other transgressions . . . ."
This proclamation was printed by government printing presses and distributed by government employees, as were similar proclamations of other presidents to our present day.
During the depths of the greatest crisis our nation experienced, President Lincoln implored American citizens to confess their sins and seek God's mercy through prayer:
'[I]t is the duty of nations as well as of men to own their dependence upon the overruling power of God, to confess their sins and transgressions in humble sorrow, yet with assured hope that genuine repentance will lead to mercy and pardon, and to recognize the sublime truth, announced in the Holy Scriptures and proven by all history, that those nations only are blessed whose God is the Lord.'" *cpcflegal
[Presidential Proclamations for Thanksgiving and Prayer can be found at Here!
---
Thursday, March 12, 2020 12:08 PM
Call for a global fast against Coronavirus with Lou Engle! Join us!! More info
Expansion link: Prayer Shield Against the CoronaVirus; Source Abigail Robertson
President of GWCCCE is a graduate of Regent University School of Government National Security and Emergency Management
---
Wednesday, February 26, 2020 1:34 PM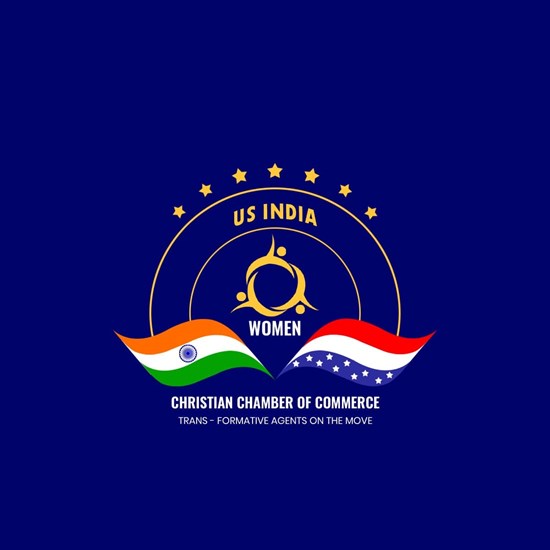 To our India friends and neighbor nations. Join us at the World Prayer Festival Tuni, Andhra Pradesh! Feb 29- March 1st!.
Come and meet our Asia Global Director, World Peace Ambassador, Dr. Timothy Roland, representing the Global Women Christian Chamber of Commerce Embassy in Asia!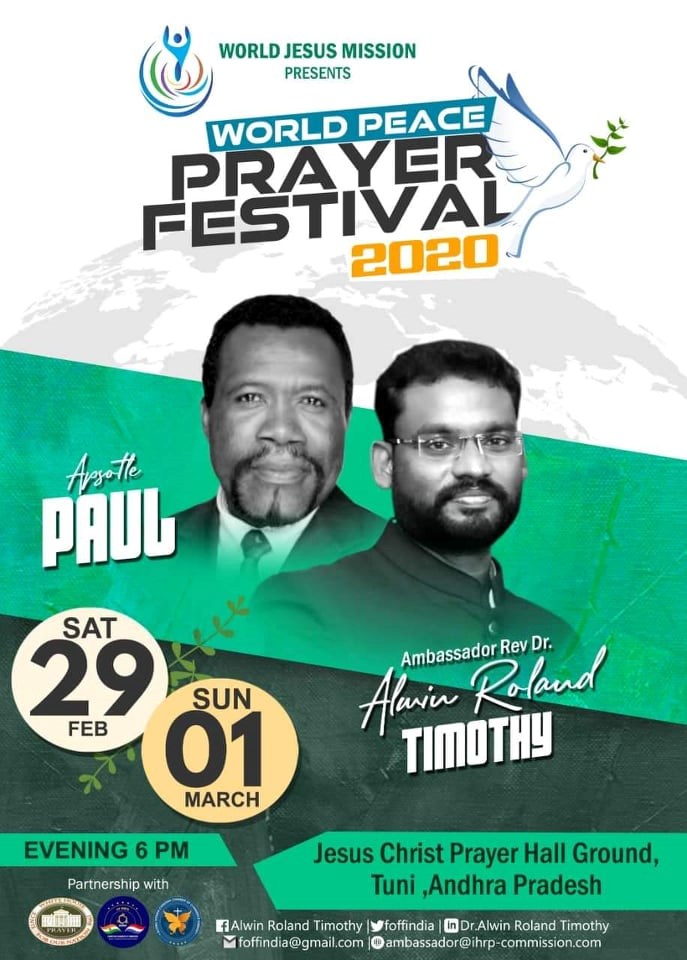 ---
Thursday, January 30, 2020 12:03 PM
DHS Center for Faith and Opportunity Initiatives
WEBINAR TODAY @2pm ET:
FEMA 101: Overview of the DHS Center for Faith and Opportunity Initiatives and FEMA Components
Everyday around the world, faith-based organizations serve the needs of people. They are most often not deployed by government, rather they act to accomplish their mission of serving others. Government works best when it partners with and empowers those organizations with resources and technical assistance. This is never more evident than in times of disaster.
Click above expanded link for registration information!